Seeing red? Pink, too? You're not the only one. This time of year, a simple stroll around town will showcase store windows decked out in ribbons and bows, chocolates in heart shaped, velvet boxes, and promotions for sale-priced champagne.
That's right, Valentine's Day is almost here. As February's finest holiday, Valentine's Day provides the perfect opportunity to celebrate the euphoric feeling of being in love. Yet, for as much compassion as a holiday can contain, it also runs a high risk for the cliché.
No matter the occasion, dating someone special means expressing your love in a way that's unique and authentic to your relationship.
So, if you're in the mood to celebrate the holiday of love, but wanting to break free from those same, old, boring traditions–we've got you covered. Here's our list of 12 ideas to make this Valentine's Day unforgettable.
Have a spa day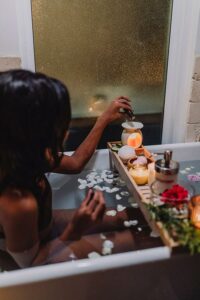 This year, Valentine's Day falls on a Monday. What better way to start the week with a relaxing day at the spa? Make this holiday stress-free and book a couple's massage for you and your partner.
Looking for something a little more intimate? For those who's language of love is Physical Touch, move the spa day at home and take turns pampering each other with massages, facials, or whatever special treatment your partner prefers.
Personalized scavenger hunt
Whether you're just getting to know each other or have been together for years, a personalized scavenger hunt is a fun way to take your partner on a walk down memory lane. For long-time lovers, construct the hunt as a fun way to showcase the special places that you've spent together as a couple. Just starting to build your history? Make it a tour of your favorite childhood places to show your significant other the sides of you that no one else sees.
Unleash your inner beast at an Anger Room
Tired of keeping all your feelings bottled up inside? Unleash your rage and take your date to an anger room. Also known as rage rooms or smash rooms, anger rooms are spaces where people can let loose and vent their rage by destroying objects within a safe environment. Some anger rooms, like this one in Dallas, Texas, even let you BYOB (bring your own breakables)! As far as unconventional Valentine's Dates go, bonding over the sound of breaking stuff is hard to beat.
Get high at a trampoline park
No substances necessary for this feel-good activity. For the adrenaline-junkies looking for something a little more low-key than skydiving, try a trampoline park like this one in Austin, Texas. Have a friendly competition with your partner on who can jump the highest. Loser has to buy drinks afterwards!
Get your game on at an arcade
Ramp up the vintage vibes–and a little friendly competition–with an exciting date night in an arcade and bar, like Miniboss in San Jose, CA. With playful drinks like their signature "Ziggy Piggy" which comes in a glass shaped as an upside down pig, you'll never run out of funny things to talk about with your date.
Rent a quirky AirBnB
Honestly, is there a better excuse for a romantic getaway than Valentine's Day? You don't need to travel far to keep the romance alive. If you want it to be a night neither one of you will ever forget, skip the classic hotel route and go for some more unconventional digs. Don't know where to begin? Start by googling for the quirkiest AirBnB picks in your area, like this one in Texas. From a tree house in Arizona to a railroad caboose in California, the options for a creative overnight stay are limitless.
Express your feelings through prose
It's not just the sensitive, artistic types that need to occasionally pour their heart out in song. If you're in love on Valentine's Day, use the holiday as an opportunity to express your feelings through a thoughtful poem or song for your partner. Too cheesy? Ask your partner to do it, too. Before ending the evening together, take 10 minutes to write a small poem for each other and then share. Make it as quirky, silly, or serious as your heart desires. The important thing is to express love for them and gratitude for the ability to spend this special day with them.
Take a romantic dinner cruise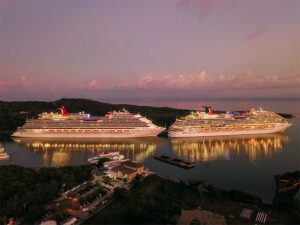 This one might be a bit harder for the land-locked lovers. But for those who live by the sea, a romantic Valentine's Day cruise might be the perfect way to end the evening. On cruises like this one, hosted by LUX Cruises and Events in the San Francisco Bay area, you and your significant other can share dinner, drinks, and your undying love for each other, while sailing away into the sun.
Volunteer together
There's nothing better for the soul than the satisfaction that comes from helping those in need. Show your partner your supportive side by spending the day of love caring for the community. Not sure where to start? Websites like VolunteerMatch are a great way to search for local opportunities to donate your time, money, or efforts to a good cause.
Trapeze Classes
Does being around your lover make you feel like you're flying? If that's the case, a trapeze class for two might be just the thing to get your heart racing this Valentine's Day. At Boerne Trapeze in San Antonio, Texas, couples can learn to swing, flip, and fly through the sky with the help of a professional Trapeze artist.
Sing your heart out at Karaoke
If we can learn anything from High School Musical, it's that Karaoke can be the start of something new. Break the ice with a new partner by belting your heart out with Karaoke. Bonus points for hitting the stage for a romantic duet together!
Snuggle up with a Netflix marathon
As the holiday of love, celebrating Valentine's Day typically means getting pretty, going out, and going above and beyond. However, if just the idea of dressing up and hitting the town sounds exhausting, why not ditch the fancy dresses and stay home instead? Pick a series or saga that you've both been dying to see, snuggle up, and press play. If you and your partner are self-proclaimed homebodies, Valentine's Day can't get much more romantic than that!